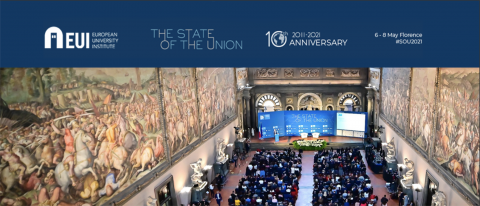 The European University Institute organizes the 10th-anniversary online edition of The State of the Union (SOU) conference, which will take place on Thursday 6 May and Friday 7 May from 09:00 CEST.
The State of the Union is an annual summit for high-level reflection on the European Union, which acts as a bridge between academia and policymaking at the highest level in Europe. 
Each year's edition is unique in its focus, as panels and keynote speeches respond to the circumstances of a changing Europe and a changing world.
For what concerns the 2021 edition, on the first day, the Welcome and Opening Address – "European in a Changing World" – will be distinguished by the participation of the President of the European Commission, Ursula von der Leyen, and the President of the EUI, Renaud Dehousse.
On the second day, the Welcome Address will be characterized by the participation of the Mayor of Florence, Dario Nardella, together with the above-mentioned President of the EUI, and the Closing remarks will be entrusted to the Italian Minister of Foreign Affairs, Luigi Di Maio. 
The two-days programme of stimulating discussions will be divided into panels concerning the topical issues of Artificial Intelligence, Climate, Geopolitics, Global Economy, Multilateralism, Peace and Human Rights, Public Health, Strategic Autonomy, together with Fringe Events sessions intellectually independent from the main programme. 
The list of the notable Speakers includes Kristalina Georgieva, Managing Director, International Monetary Fund; Ngozi Okonjo-Iweala, Director-General, World Trade Organization; Christine Lagarde, President, European Central Bank;  Edi Rama, Prime Minister, Albania; Ayşe Cihan Sultanoğlu, Assistant Secretary-General, United Nations and Frans Timmermans, Executive Vice-President for the European Green Deal, European Commission; Margrethe Vestager, Executive Vice-President for a Europe Fit for the Digital Age, European Commission.
It is possible to submit an expression of interest and select the preferred topics here. 
Submitted on Wed, 05/05/2021 - 15:45