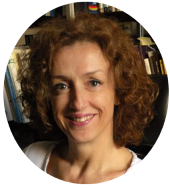 Nicoletta Rangone
(n.rangone@lumsa.it)
Nicoletta is a full professor of Administrative Law at LUMSA University, a Professor of Better Regulation in the European Master in Law and Economics-EMLE (Erasmus+ Master's programme), and she leads the Jean Monnet Chair on EU Approach to Better Regulation (2019-; Jean Monnet Module 2016-2019).
She has been associate professor at the Politecnico of Milan, qualified lawyer, and Doctoral fellow at the Université Libre de Bruxelles and she holds a PhD in Public Law (University of Bologna). She worked for national and international institutions on better regulation: the OECD, the World Bank, the Italian Competition Authority, the Italian Authority for Energy, the Corruption Prevention Authority, the Ministry for Public Administration, the Presidency of the Council of Ministries, the Ministry for Justice, the National School of Administration, the Formez PA.
She is a member of the Scientific Committee of the Osservatorio AIR and of the Center for Research and International Relations of LUMSA University. She is co-editor of the peer-reviewed journal "Studi parlamentari e di politica costituzionale" and of the "Rassegna trimestrale Osservatorio AIR".
Her research interests are simplification policies, effective law and regulation, cognitive-based regulation, corruption prevention, artificial intelligence and public administrations, competition advocacy, and public utilities regulation.
Prior to entering academia, she worked for the Italian Competition Authority.
Submitted by n.buonocore_110 on Fri, 08/05/2022 - 09:40