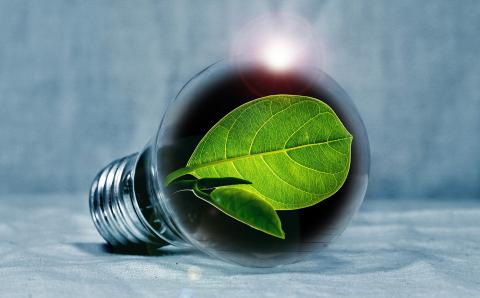 Nell'ambito della Cattedra di Amministrativo I (A.A. 2021-2022) della prof.ssa Nicoletta Rangone presso l'Università LUMSA di Roma, si terranno una serie di lezioni seminariali volte all'approfondimento di tematiche di attualità.
La prima si focalizzerà su "Pubbliche amministrazioni di fronte alla transizione energetica ed ecologica" e sarà tenuta dalla prof.ssa Agime Gebeti, professore a contratto di Diritto dell'ambiente ed Esperta per il G20 Ambiente.
Il seminaro avrà luogo giovedì 11 novembre 2021, dalle ore 11:00 alle ore 13:00, presso l'aula 3 della sede di via Pompeo Magno n. 28, Roma.
Per maggiori informazioni, si prega di contattare la dott.ssa Maria Bianca Armiento: m.armiento1@lumsa.it
---
As part of the Chair on Administrative Law I (A.Y. 2021-2022) held by Prof. Nicoletta Rangone at the LUMSA University of Rome, a series of seminar lectures will be held aimed at deepening the understanding of current issues.
The first one will focus on "Public administrations facing the energy and ecological transition" and will be held by Prof. Agime Gebeti, professor of Environmental Law and Expert for the G20 Environment.
The seminar will take place on Thursday 11 November 2021, from 11:00 a.m. to 1:00 p.m. in Room 3 of the premises in Via Pompeo Magno n. 28, Rome.
For further information, please contact Dr Maria Bianca Armiento: m.armiento1@lumsa.it
---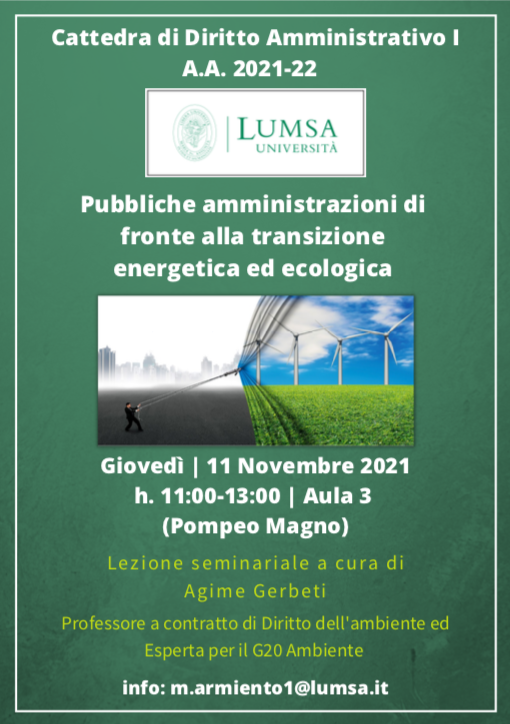 Submitted on Tue, 11/09/2021 - 13:26