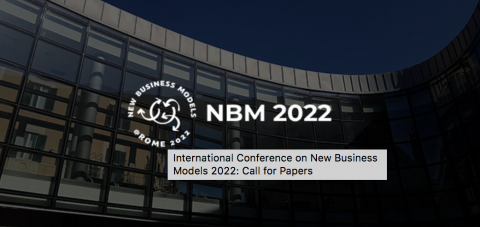 The LUMSA University of Rome is organizing the seventh edition of the International Conference on New Business Models, focused on the topic of current and future challenges in business and sustainability: from post-pandemic economic recovery to issues related to digital transformation.
Academic interest in the concept of sustainable business models has grown significantly in recent years, especially given the 2030 Agenda for Sustainable Development, the recent Next-Generation EU plan and the rapid acceleration of digital transformation. This seventh edition of the International Conference on New Business Models aims to stimulate debate and insight into the role of sustainable business models in addressing two of the major challenges of our time: economic recovery and digital transformation. 
A call for papers is still open. The latter is addressed to professors and researchers, doctoral students and scholars interested on the topics of sustainability in the economic sphere, new business models, circular economy, digital transformation, the role of financial intermediaries, frugal innovation, crisis management, entrepreneurship and social inclusion, and the sharing economy. Please check all the 17 tracks on the Call for Contributions.
The deadline for submissions is set for the 15th of February and three types of contributions are accepted: extended abstracts, short papers and full papers.
---
The event is organized as follows:
Doctoral Colloquium: 22 June 2022 

Conference: 23, 24 June 2022
---
Publication opportunities:
Conference proceedings with ISBN and DOI.
Fast track review process for Sinergie - Italian Journal of Management.
At most 3 contributions will be selected for inclusion in the Special Issue on "A strategic perspective on flexibility, agility and adaptability in the digital era" of Management Decision Journal.
---
Gala Dinner:
Sistine Chapel Private Tour and dinner buffet in the courtyard of the Pinacoteca will be organized on the 23rd of June after the conference!
---
Keynote speaker:
Silvio Micali, MIT Professor, recipient of Turing Award, and founder of Algorand will speak on the Future of the Sustainable Blockchain.
---
Doctoral Colloquium:
Applications are due by April 1st. Call for Applicants available here.
---
Further submission guidelines and information are available on the conference website: www.newbusinessmodels.org constantly updated. 
For any other questions or doubts, you may contact  the following address: nbm2022@lumsa.it.
---
The initiative is supported by the partners of the NBN network: Halmstad University, University of Groningen, Vub Chair Social Entrepreneurship, University of Graz, Sinergie, ESCP Business School and Sustainable Business Model.
Submitted on Wed, 01/26/2022 - 18:24